HOME
ABOUT US
VEGETABLE
BOXES
APPLES & JUICE
RECIPE
IDEAS
NEWSLETTER
ARCHIVES
GALLERY
F.A.Q.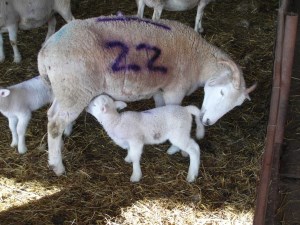 ORGANIC LAMB Although this can vary due to demand and the season, generally lamb is available from August/September through to about January, with some hoggets then available in April. If you would like some, please contact us and we'll reserve one for you next time some are available, which is usually every three to four weeks during the season.

The lambs are supplied fresh, rather than frozen, and are bagged and labelled, ready for the freezer. A half lamb would have two leg joints, two shoulder joints, breast (de-boned and rolled, or minced if you prefer) and a number of chops. If you have alternative cutting requirements, that is no problem - just let us know!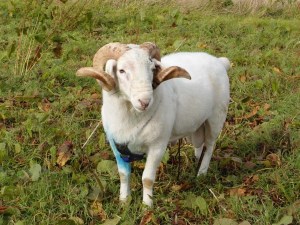 Half a lamb is about 8 - 10kg, although this can vary during the season, and is sold at £9.00/kg. This is a delivered price in the Taunton area. If you live further afield, contact us anyway as we may be able to come to some sort of arrangement. Half a lamb is a large carrier bag full, or one shelf in the freezer.

Nearly all of our sheep are Wiltshire Horn. This breed has a good reputation for producing good quality lean meat. Another advantage is that they shed their wool in the spring, so they don't have to be shorn. This minimises the risk of them getting dirty in the fields and attracting flies. The lambs are completely grass-fed.

For more details of the breed, please visit www.wiltshirehorn.org.uk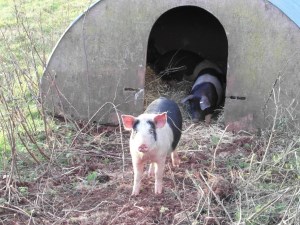 ORGANIC PORK This is currently unavailable, but I do fatten a litter of NON-organic pigs each year, available around March. These pigs are free-range and live outside with access to arks. They are fed on GM-free corn from a trusted local family farm source.

It is supplied bagged and labelled for the freezer in "quarter pigs", about a 10kg pack. The joints include fillet pork, knuckle pork, spare ribs, belly pork and chops. Sometimes we also do sausages.

They are always rare breed pigs, usually Large Blacks or Saddlebacks (pictured). They are kept to root out as many perenniel weeds as possible, before ploughing, in the vegetable field.